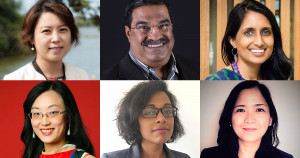 In May, several members of ethnic communities were appointed to regional Lottery Distribution Committees and Community Trusts. Congratulations to:
Grace Ryu, Ralph Correa and Vanisa Dhiru who were appointed to their regional Lottery Distribution Committees; and
Ming-chun Wu, Naisi Chen (not pictured) and Vanushi Walters who were appointed to their regional Community Trusts.
A special congratulations to Monina Hernandez, who has been announced as a finalist for the 2019 Women in Governance Awards for Emerging Governance Leader. We wish her the best of luck on 20 June when the winners are announced.
If you are interested in finding out more about State sector boards, visit our Nominations Service webpage.