Aotearoa New Zealand's ethnic communities
Aotearoa New Zealand's ethnic communities include anyone who identifies their ethnicity as:
African
Asian
Continental European
Latin-American
Middle-Eastern.
Based on the 2018 Census, ethnic communities make up around a fifth of New Zealand's population, almost a million people. This includes new and temporary migrants, former refugees, asylum-seekers, long-term settlers and those born in New Zealand.
They are an incredibly diverse group, representing over 200 ethnicities and speaking over 170 languages.
Ethnic communities Data Dashboard
You can find out more using the Ethnic Communities' Data Dashboard. Created in partnership with Statistics New Zealand, it is an interactive tool that allows you access to information on ethnic communities in Aotearoa New Zealand. You can use it to create comprehensive information on ethnicity, religion, and language – at national and regional levels.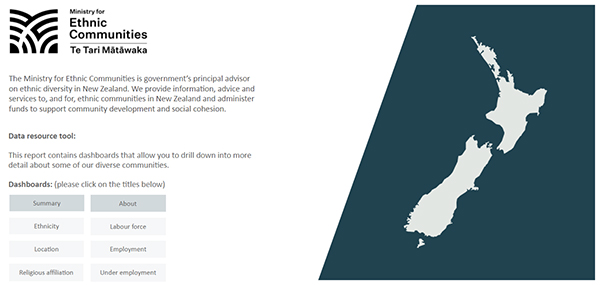 Community Directory
Welcome to the Community Directory, a register of ethnic community organisations and support services.
If your organisation would like to be included in the directory, please email info@ethniccommunities.govt.nz.
| Name | Description | Website | Region | Services | Phone | |
| --- | --- | --- | --- | --- | --- | --- |
| Afghan Association of New Zealand Inc | The Afghan Association of New Zealand (Inc. ) was founded in 2000. The Afghan Association of New Zealand is the oldest and largest established organisation that represents the Afghan Diaspora of New Zealand. | www.afghanistan.org.nz | Auckland | Youth, Community Services, Education | 09 281 5720 | View |
| Afghan Veterans Interpreters' Association of New Zealand | Community organisation of Afghan interpreters who were resettled in New Zealand in 2013 | avia.org.nz | Nationwide | Community Services | 021 775 718 | View |
| African Communities Forum Incorporated (ACOFI) | Our Vision: A dynamic fully integrated African Community that contributes to all sectors of New Zealand society. African Communities Forum Incorporated is registered under The Incorporated Societies Act 1908. We are a not for profit organization for all people of African... | www.acofi.org.nz | Auckland | Community Services | 021 145 1337 | View |
| Ahmadiyya Muslim Jama'at New Zealand Inc. | Service to Humanity, Moral & Spirirtual training | www.ahmadiyya.org.nz | Auckland | Faith Group | 09 267 0570 | View |
| Multicultural Aoraki | Connecting, supporting, advocating and celebrating our vibrant multicultural community. | multiculturalaoraki.org.nz | South Canterbury | | 03 687 7332 | View |
| Armenian Association of Wellington Inc | To promote and maintain the cultural heritage of the Armenian community in the Wellington region | | Wellington/Kapiti | Community Services | 027 568 7495 | View |
| ASEAN New Zealand Business Council Inc | ASEAN New Zealand Business Council Inc (ANZBC) is a member based business council connecting New Zealand businesses with ASEAN trading partners. | asean.org.nz | Nationwide | Business & Enterprise | 09 528 6492 | View |
| Asylum Seeker Support Trust | We began in 1989 as the Auckland Refugee Council Inc (ARCI). We saw the plight of people who sought asylum, families who had escaped life-threatening danger and were desperate for a safe haven. We're now known as the Asylum Seeker Support Trust. | aucklandrefugeecouncil.org | Auckland | Counselling Services, Housing | 09 378 7434 | View |
| Auckland Inter-Faith Council (AIFC) | The Auckland Inter-Faith Council (AIFC) is a voluntary non-profit association of persons who represent diverse religious traditions and faiths that exist within our wider society. | www.aucklandinterfaithcouncil.org.nz | Auckland | Faith Group | | View |
| Auckland Malayali Samajam Inc. | The aim of the Samajam is to promote, preserve and nurture the special culture and linguistic heritage of the Malayalees and also to foster contacts and friendship among the Malayalees in Auckland and other parts of New Zealand and enrich the diverse cultural fabric of New Zealand with the best... | www.aucklandmalayalisamajam.org.nz | Auckland | Community Services | | View |
View imported data history