Ethnic Communities Development Fund hub
The Ethnic Communities Development Fund gives out $4.2m every year to projects that improve outcomes for ethnic communities, including the opportunity to grow their skills and celebrate their culture. Our new Ethnic Communities Development Fund hub has all the information you need to find out how to apply for the Fund, including a step-by-step instructional video.
You'll find tips on how to apply for funding, the priorities your project must work within, funded projects and stories about successful initiatives. Find out who the panel members are and connect with our Community Funding Advisors.
We have made some changes to how we run the fund. These are based on our 2022 Strategy priorities which reflect what our ethnic communities said was most important to them. The Ministry now manages and administers the fund, and holds the relationship with funded applicants.
Our journey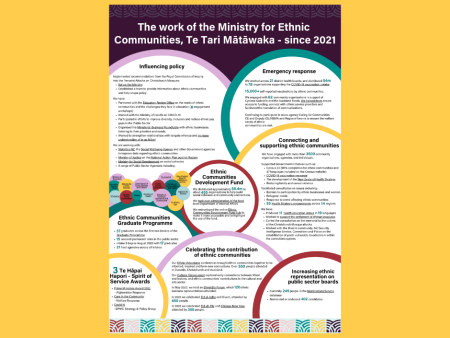 The Ministry for Ethnic Communities was established in July, 2021 following recommendations from the Royal Commission of Inquiry into the Terrorist Attacks on Christchurch Mosques.
We were created to help Aotearoa New Zealand become a truly inclusive country. We support communities in many ways - we work to help them in times of need, and to celebrate alongside them. Our strategic direction reflects the voices of the ethnic communities we serve.
We work with a range of Public Service agencies on matters which are important to our communities, such as health, employment and education.
To mark our second anniversary, and to hold ourselves to account, we looked back at our work over our first two years as a Ministry.
Read about our journey so far by clicking the links below.
Explore our Ministry's work in this interactive diagram (PDF)
Read 'Our Journey, two years on - achievements 2021-2023' (PDF)
Discover the Ministry's work