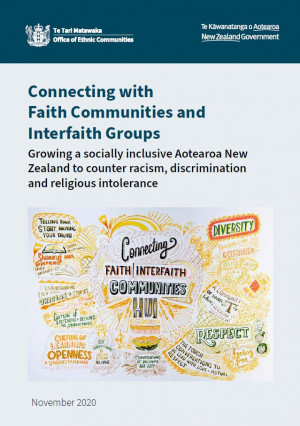 In February and March 2020, the Office of Ethnic Communities brought together representatives form faith communities and interfaith groups all across Aotearoa New Zealand. The purpose of these hui was to discuss, identify and agree on actions to promote greater social inclusion and wellbeing, and to counter racism, discrimination and religious intolerance.
The Connecting with Faith Communities and Interfaith Groups: Growing a socially inclusive Aotearoa New Zealand to counter racism, discrimination and religious intolerance report is a record of those discussions. It outlines the key themes that emerged and identifies chances for our office, community organisations and members of our communities to address the challenges, issues and opportunities that were raised.
We all have a significant role to play in ensuring Aotearoa New Zealand remains a socially inclusive country; it is our hope that this report will help guide our collective efforts in the right direction.
* This document is in Adobe Acrobat (.pdf) format. You need to have the Adobe Acrobat Reader installed on your computer. You can download a free version from the Adobe site.