Young Leaders Programme Alumni Hui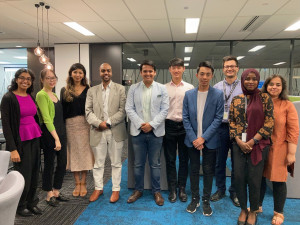 Alumni from the Office of Ethnic Communities' Young Leaders Programme (YLP) came together in Auckland last month to catch up and exchange views about the impact that the programme made on them at the professional and personal levels.
The Young Leaders Programme ran between 2012 and 2014 and its aim was to develop leadership skills among young people from Aotearoa New Zealand's ethnic communities in order to prepare them for careers in the State sector, and to encourage connections between them to help cultivate their professional networks.
The YLP alumni hui came as the Office of Ethnic Communities renews its efforts to offer career opportunities in the public service for ethnic youth through the Ethnic Communities Graduate Programme. This new programme will provide a meaningful first employment opportunity in the public service for skilled graduates from ethnic communities, directly addressing the low representation of ethnically diverse employees and the barriers they face to access employment in the public sector.
The hui was organised by the Office of Ethnic Communities following a request by the Auckland-based YLP alumni. It offered an opportunity for them to reconvene and share the impact that the YLP had on them in terms of skills acquired, capacity building and opportunities presented. It was also a chance for OEC to re-connect with the alumni and present on its current strategy and work programme.
When discussing the key benefits of the YLP, participants mentioned the opportunity to learn about the machinery of government, the networking events, the increased leadership and professional opportunities, the chance to meet like-minded aspiring ethnic youth, an increased sense of belonging, and a positive effect in their identity formation processes.
The YLP alumni are now well-established and working across different sectors. Their success is a fantastic illustration of the way in which Aotearoa New Zealand's ethnic youth can realise their full potential when the right opportunities arise.
YLP alumni admitted to top-ranked public administration school
Young Leaders Programme Alumni Sam Yoon will soon be travelling to the United States to start a master's programme at the top-ranked public administration school in the world, Harvard's John F. Kennedy School of Government. We caught up with Sam and asked if his experience with the YLP had played any role in his success.
"I believe the programme played a large role in me pursuing this pathway", Sam said. "I learnt two things through the Young Leaders Programme. The first was how to navigate this world as an ethnic youth and to bring my true self to my studies and to my workplace. The second thing I learnt was the machinery of Government, and here I am now, going to the top public administration school in the world".
Watch the video below to hear everything Sam had to say about his experience with the YLP.