Wellington Phoenix Football Diversity and Inclusion Programme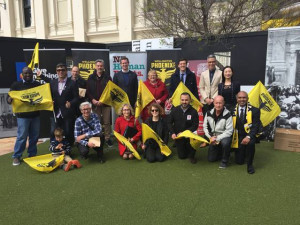 Wellington Phoenix launched its 2018/19 Football Diversity and Inclusion Programme (FDIP) at Wellington's Civic Square on 15 October.
Now in its second year, the FDIP is focused on promoting wellbeing outcomes for young people and their families. As part of the programme, the Wellington Phoenix will offer complimentary 2018/19 season tickets for recently resettled refugees and people from low socioeconomic communities in the Wellington region. Recipients will also receive free train transport on game day for Wellington Phoenix's 2018/19 home games at Westpac Stadium.
The programme fosters inclusivity by using sport as a vehicle to help Wellington's diverse communities positively engage with one another. Approximately 900 people will benefit from the programme during the 2018/19 football season.
Wellington Phoenix General Manager, David Dome, said that the initiative provides an opportunity for the club to give back to the communities and local organisations that support the Phoenix.
"The programme is very much focused on those segments of our community that – while they love football – for many reasons can't attend Phoenix matches at Westpac Stadium."
"As part of our wider programme of school and community programme of school and community visits, who know, one day a professional footballer may come out of this. Until then, the smiles and laughter that you see from the kids at the games is good payment!"
Organisations supporting the Wellington Phoenix's initiative include the Human Rights Commission, Red Cross NZ, Changemakers Refugee Forum, Multicultural NZ, Volunteer Wellington, OrangaTamariki, NZ Police, Western Suburbs Football Club, and the four city councils in the Wellington region.
Rakesh Naidoo from the Human Rights Commission believes initiatives like the Phoenix FDIP will help to promote diversity in New Zealand.
"Unfortunately, there are still major social and economic barriers that exist for some members of our community but with the help of Wellington Phoenix we've been working with families to show them the power of sport.
"We express our sincere thanks to the club for improving the lives of the people in these communities in the Wellington region."