We have created the Ethnic Communities' Data Dashboard in partnership with Statistics New Zealand. It is an interactive tool that allows you access to information on ethnic communities in Aotearoa New Zealand. You can use it to create comprehensive information on ethnicity, religion, and language – at national and regional levels.
The Data Dashboard contains information on ethnicities, as reported by individuals in the 2018 Census. The New Zealand Government defines ethnic communities as:
Asian
African
Continental European
Latin American
Middle Eastern.
This meant, when finalising the 2018 census data to use in the Data Dashboard we needed to make some simple changes so the data only included relevant groups.
Statistics New Zealand 2018 Census data is categorised as follows:
European
Māori
Pacific Peoples
Asian
Middle Eastern/Latin American/African (MELAA)
Other
Based on these we did three simple things to ensure we only included data on ethnic communities. Removing some groups from the data because they are not ethnic communities. Split the MELAA group into three – Middle Eastern, Latin American and African. We reallocated a small number of groups categorised as European and 'Other' to African as these populations count as part of Aotearoa New Zealand's ethnic communities. This means you cannot make a consistent comparison between Data Dashboard and Statistics New Zealand 2018 ethnicity data.
If you need more information on how the data was categorised, please contact info@ethniccommunities.govt.nz.
The Data Dashboard contains detailed information on religious affiliation, spoken languages, labour force status, and employment status. You can use the information to help with any planning or general information sharing activities.
Government agencies, Councils, Businesses, and other organisations can use this information to identify key trends for Ethnic Communities.
To help make the best use of the data, please check out the 'About' section (page two) within the Data Dashboard.
Census
The Census is the official count of how many people and dwellings there are in Aotearoa New Zealand. By asking everyone to complete a set of questions about themselves and their household. Statistics New Zealand can capture who is living in and visiting, Aotearoa New Zealand.
Statistics New Zealand conducts the Census every five years. Everyone in Aotearoa New Zealand must complete the census form. The last Census was in 2018 and it had a response rate of 83.3%.
The 2018 Census data is the most recent source of nationwide information and, will continue to be valid until the next Census in 2023.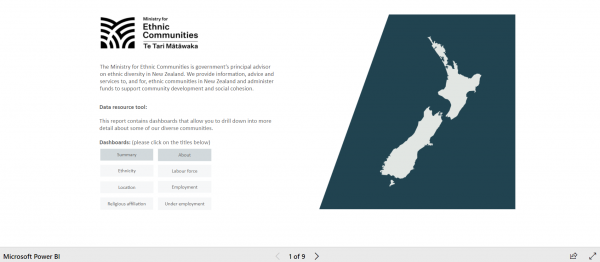 Census QuickStats - cultural and identity
2018 Census Ethnic group summaries
Ethnic group summaries reveal New Zealand's multicultural make-up
2013 Census QuickStats about cultural and identity
2006 Census QuickStats about cultural and identity
2001 Census of population and Dwellings: Cultural diversity tables
More information
For any questions, please email the Office of Ethnic Communities at info@ethniccommunities.govt.nz.
For any specific questions on the Census 2018 data, please contact Statistics New Zealand toll-free on 0508 525 525 or email info@stats.govt.nz