Spotlight on: Shirish Paranjape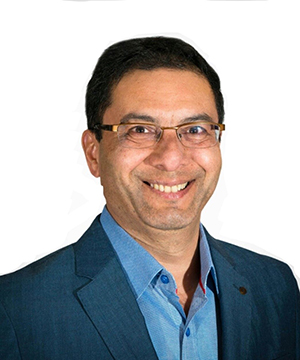 We recently spoke with Shirish Paranjape, a leader in the Christchurch community, to find out more about his governance board experience.
The Office of Ethnic Communities Nominations Service supported Shirish Paranjape's appointment to the Department of Internal Affairs' Lottery Significant Projects and Community Facilities Committee.
Tell us about yourself?
I am an Indian-Kiwi, who has called Christchurch home since 2002. My wife Manik and I have two daughters Neha and Shreya, they are both travel consultants.
What is your career background?
I am an electrical engineer by trade and work for AuCom Electronics Limited as an International Sales Manager. I have been with AuCom since I arrived in Christchurch from Mumbai. I enjoy meeting customers in different parts of the world, as well as gaining diverse experiences through my relatively frequent travels.
Tell us about your governance journey. What inspired you to apply for a board position?
My first inspiration came from Mervin Singham, the then Director of Ethnic Communities. At one of the conferences of New Zealand Federation of Multicultural Councils. He explained about the Nominations Service run by the Office and encouraged those from culturally and linguistically diverse communities to come forward for board appointments.
My first board position was as an elected people's representative - a Community Board member at Christchurch City Council. After that, I became one of Christchurch City Council's representative Board members on the Riccarton Bush Trust and later a board member at Volunteering Canterbury and Plains FM.
I was appointed on two different Internal Affairs boards, the Crown Panel and Lotteries Commission.
Tell us about your board success to date. What are you most proud of achieving while on your board?
I would call it a continuous learning experience. On the Crown Panel and Lotteries Commission, I get to observe the aspirations of different parts of the community from all corners of New Zealand. I study the project proposals that are put forward, and feel happy to be supporting them through the funding which we recommend as a team.
What do you enjoy most about being a board member?
I enjoy:
studying the various project proposals
selecting the proposals that receive funding
learning about their success stories and receiving feedback.
It is satisfying to see tax-payer funds and Lotteries' profits being used for community projects which have a long term impact.
What advice would you give to someone interested in a governance career?
Keep trying. Don't give up. Keep polishing your skills as opportunities come up. Look at voluntary or honorary roles which can provide you vital exposure and experience.
Do you think ethnic diversity is important on a board, and why or why not?
Diversity is extremely important. I strongly feel that boards should reflect the fabric of New Zealand society.
Who's the person that has influenced you most?
A few people have influenced me in my board journey. Mervin Singham was the first, in his role as Director of the Office of Ethnic Communities.
Also, Christchurch City Councillor Jimmy Chen encouraged members from ethnic communities to come forward for elected positions such as Councillors and Community Board Members.
Finally, members of parliament including Dr. Megan Woods, Nicky Wagner, Ruth Dyson, Poto Williams, as well as Lianne Dalziel (Mayor of Christchurch) – all provided encouragement and support to me in their own way.
Learn more about our Nomination Service on our website.