Office of Ethnic Communities civic participation project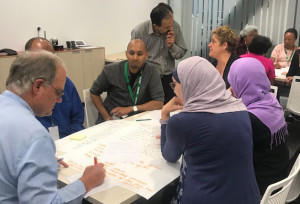 On Friday 7 December 2018, the Office of Ethnic Communities concluded the face to face consultations for our civic participation project.
The aim of this project is to reduce barriers and create opportunities for ethnic communities to engage in all aspects of New Zealand civic life.
We spoke to more than 300 members of ethnic communities across Auckland, Wellington and Christchurch to understand their views and experiences of civic participation.
It is a Government priority for ethnic communities to feel a sense of belonging in New Zealand, and to be able to participate fully and actively in society. One way of achieving this is to support and encourage involvement in civic activities such as local and central government voting, census and volunteering. Participation is a good indication of integration and how people feel about their community.
The Office of Ethnic Communities has opened a survey to gather ethnic community views and experiences of civic participation in New Zealand. The information collected in the consultations and survey will help inform a work programme on civic participation starting in 2019.