New Ministry for Ethnic Communities Launches in Ōtautahi Christchurch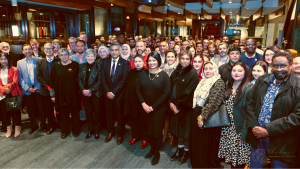 The new Ministry for Ethnic Communities Te Tari Mātāwaka was launched in Ōtautahi Christchurch on Tuesday 27 July. A diverse group of people from across Waitaha Canterbury came together to celebrate this significant milestone at the Christchurch Town Hall, where they were joined by the Minister for Diversity, Inclusion and Ethnic Communities Hon Priyanca Radhakrishnan, the Ministry for Ethnic Communities' chief executive Mervin Singham and Ōtautahi Mayor Lianne Dalziel.
Te Taumata Tapu o Ngai Tuahuriri and Liz Kereru (Pou Manaaki, Ngāi Tūāhuriri), local mana whenua, opened the event with a beautiful karakia, speech and waiata.
Over 160 people from all our mandated communities attended the celebration, with guests comprising of March 15 bereaved and impacted families, people who have advocated for the establishment of the Ministry, not-for-profit organisations, academia, youth, and women groups.
Speeches by Minister Radhakrishnan and Mervin Singham underlined the significance of this moment for ethnic communities in Canterbury and across New Zealand: this is the first time they will be represented by a Ministry and a chief executive capable of influencing positive change at the highest level in the public sector. Mayor Dalziel spoke about the history of the Office of Ethnic Affairs and of strengthening the existing partnership between the Christchurch City Council and the Ministry for Ethnic Communities.
The speeches were followed by shared kai and the opportunity for guests to connect with each other, Minister Radhakrishnan and the new Ministry's chief executive. We would like to thank all of those who joined us for this joyous occasion and invite them to work together with the new Ministry to deliver tangible change for Aotearoa New Zealand's ethnic communities.
More pictures from this event are available on our Facebook page(external link).