Ethnic communities and the suffrage movement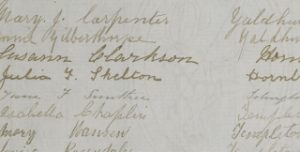 New Zealand was the first country in the world to give women the right to vote. Did you know, members of New Zealand's ethnic communities played a role in shaping this part of New Zealand's history?
Between 1891 and 1893, women around the country petitioned Parliament for the right to vote. More than 9,000 people signed the suffrage petition in 1891 and nearly 20,000 signed in 1892. By 1893, 31,872 people added their names.
Margaret, Agnes, Helena and Minnie Alloo, of Chinese and Scottish descent, were among the women who penned their names on New Zealand's Women's Suffrage Petition. Minnie, only 19 years of age, was one of many young women who signed the petition despite falling below the voting age of 21.
The Alloo family included father, John born in Guangzhou, China, and mother, Margaret Alloo nee Peacock, born in Scotland. Together John and Margaret had nine children. John was New Zealand's first Chinese person to join the New Zealand Police, working as an interpreter and a constable.
Since the suffrage movement, New Zealand has had three women Prime Ministers. In the most recent election in 2017, Jacinda Ardern was elected Prime Minister, and a total of 46 women were elected in to Parliament, some being members of New Zealand's diverse ethnic communities. This is the highest number of women MPs in New Zealand's history their presence representing 38% of Parliament.
The Office of Ethnic Communities' is focused on increasing the active citizenship of people in ethnic communities. We value the contributions that ethnic diversity makes within our communities and our nation, and celebrate stories that highlight these contributions.