Director's Update April 2019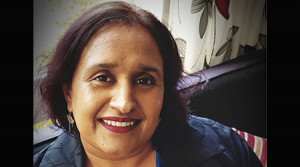 Tēnā koutou katoa
I know I'm not alone when I confess that the past few weeks have been a maelstrom of intense emotions, whether it be grief, shock, anger, love, kindness or hope. My aroha is still strong for all our ethnic communities who have been directly or indirectly affected by the Christchurch terror attacks, and who all have their own relatable experiences. I am also still heartened and motivated by the continued dialogue in New Zealand on our awareness of the experiences of our ethnic communities, and the power of a truly socially inclusive country.
In the weeks following the Christchurch attacks, I have noticed how community leaders – already devoting considerable energy to their communities while holding down full-time employment and busy family lives – poured their efforts into selflessly caring and supporting their communities. I recognise that this inevitably takes a toll on people and their families, and I hope we are all finding the space to nurture ourselves while we care for others.
In the days following the Christchurch attacks, it became very clear that the Office needed to be more responsive or proactive across all our ethnic communities in New Zealand. We had to quickly refocus our effort and put tangible support in place for our own staff as they deepened their response with our communities. As a result and recognising the need to put community development at the heart of our work, the Office has recently embarked on a recruitment drive in Auckland, Wellington and Christchurch. As this becomes bedded in, I believe you will notice a tangible difference in the way the Office interacts and works with your communities and across government.
You may have noticed recently that the Government released $1 million towards a one-off Ethnic Communities Development Fund (not connected to the established yearly fund, which opens in September every year). The fund will remain open until all funds are allocated, with a process that ensures the funding decisions and distribution happens quickly. If you have a project that improves New Zealand's social cohesion, particularly for communities affected by the Christchurch terror attacks, please look at this link for further information.
We made a few changes to the look and feel of the Office's website and logo. Through the usual process of upgrading our platform, we took the opportunity to respond to your feedback and make some improvements. I hope you find the new website is easier to navigate and simpler to use. The refreshed logo is consistent with government logos, and more firmly identifies the Office as a recognised and proud core government agency.
Whether over the past month you have celebrated the Hindu New Year, Easter, Passover or any other event, I hope your celebrations went well. In the month ahead, I am looking forward to attending Africa Day celebrations. And I wish all our Muslim communities Ramadan Kareem.
Ngā mihi nui,
Anita