Our Ōtautahi Christchurch conference was a time for reflection, celebration and inspiration. Participants shared their stories, discussed issues important to them and made new connections.

The event was held on 3 December with people travelling throughout Canterbury and further across the motu to attend.

Covid-19 put an end to many gatherings for a long time, and people have been craving human connection, to come together and celebrate once more. Our conferences aimed to provide a platform for people from diverse ethnic backgrounds to connect with one another. It is our hope they are a tool to promote inclusion, a space where everyone feels they belong and that their voices are heard.

This was the second conference in our Ethnic Advantage series – the first was in Ōtepoti Dunedin and another will be held in Tāmaki Makaurau Auckland next year.

The Ethnic Advantage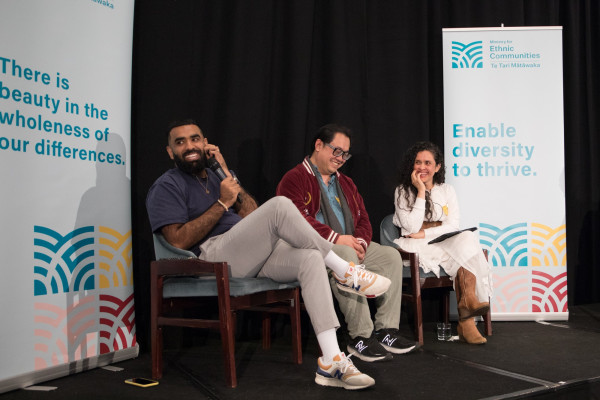 The theme for our conferences is Ethnic Advantage. Ethnic Advantage highlights ethnic diversity as something we should treasure – a taonga.
Ethnic communities have contributed to Aotearoa for more than a century. A diverse population has many benefits, including economic, cultural, and social. New Zealand is a better place because of its ethnic communities, and there's still so much potential waiting to be unlocked.
Speakers, panellists, and participants told us they loved the theme – that it flipped what they have sometimes viewed as a disadvantage into a positive, and they started thinking more about the 'advantage' their ethnicity brings.
Watch as speakers, panellists and participants share their views on the Ethnic Advantage conference.
Inform, connect and grow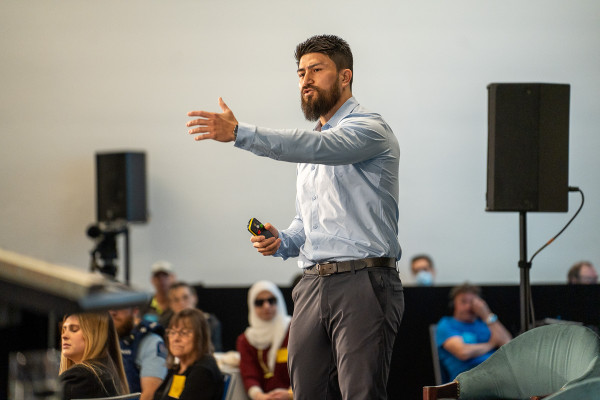 Our Christchurch conference provided a space for people to have open and honest conversations about how to create strong and empowered communities to make New Zealand a more inclusive place.
Former Afghan refugee Abbas Nazari was our keynote speaker. He shared his story about his family's journey from Afghanistan to New Zealand, and his life in Aotearoa after his family was rescued at sea.
Watch keynote speaker Abbas Nazari's speech
There were two main plenary sessions on the day – For Health's Sake, where a panel of health experts addressed the crowd, and answered questions from them, and The Cultural Quotient, where three artists shared their thoughts about the pathway to careers in the arts, and the barriers that are in the way.
Breakout sessions focussed on Rainbow communities, youth, how to apply for funding, being culturally competent in bi-cultural Aotearoa, and support for New Zealanders during international crises.
We also heard from Christchurch city councillor Tyla Harrison-Hunt and Solway College year 12 student Sheryl Chand, who presented her award-winning Race Unity Speech Awards speech.
"I believe that the repetition, and having these conferences and developing our message and saying it more clearly is key to advancing our nation in a sense that we can all live our most powerful and empowered lives, and that's what the promise of Aotearoa New Zealand is. It's about living that potential through partly an ethnic advantage."
- Matthew Farry, Executive Director, Courageous Conversation South Pacific Institute