Wellington Chinese Women's Association hosts women's forum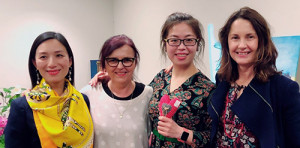 Wellington Chinese Women's Association recently held a forum for Chinese women to come together, share experiences and support each other in their settlement journey.
The association, which has more than 350 members, was set up in 2013 with the aim of supporting new Chinese migrants settling in the Wellington region.
Settling in a new country is not easy, especially if you don't have support networks around you. Even if you speak the language, you may not be familiar with how things work in your new country or how to find information you need. Some of the key settlement challenges outlined by forum participants were language, cultural differences and access to information.
The forum's panel speakers all agreed that volunteering and community involvement were some of the key factors that lead to successful settlement outcomes and enhance a sense of belonging to New Zealand.
One of the participants reflected that being involved in the community helped to build her self-esteem and provide her children with a good role model.
Lesley Chu, founder of the Wellington Chinese Women's Association, knows well what challenges new migrants face when settling in New Zealand. Lesley came to New Zealand in 2001 as a student. One of the biggest challenges she faced when settling here was finding a job after completing a degree in Human Resource Management.
After the birth of her second child, Lesley wanted to go back to work but wasn't sure where to start. Her mum suggested that she get involved in volunteering to get out of the house and connect with the community.
Lesley soon realised that there were other Chinese women with young children who felt lonely and isolated, so she initiated a weekly playgroup where women could connect and share experiences of bringing up children in New Zealand.
The women now use the social media platform Wechat (group: nzwelly) to communicate with each other and share information about settling in New Zealand with new migrants who are making Wellington region their home.
Lesley is also keen to connect with leaders from other ethnic groups and share experiences of setting up and running a community group.