The 4th Halal Tourism and Hospitality Symposium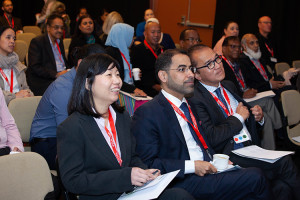 The Halal Tourism and Hospitality Symposium was held on 21 November 2018. Over 100 people attended from various fields including academia, tourism and public service. The Office of Ethnic Communities was also represented
The symposium was organised by Waikato School of Management and supported by the Federation of Muslim Associations of New Zealand (FIANZ) and Tourism Industry Aotearoa. It aimed to help tourism operators, government agencies and communities understand the economic benefits of promoting New Zealand as a Muslim-friendly destination
Approximately 24% of the world's population is Muslim and many of them reside in regions with a growing middle class whose disposable incomes are earmarked for international travel. New Zealand could benefit from the Muslim tourism market by stepping up efforts to attract Muslim tourists and business travellers.
The United States and Europe are benefiting the most from the Muslim travel spend thanks to their advertising of Muslim tourist facilities. Australia and Canada have also strengthened their efforts to attract Muslim tourists, and Asia and the Middle East are investing millions to promote halal tourism.
Speakers at the symposium suggested New Zealand's clean, green image and family friendly environment is attractive to Muslim travellers, but the tourism sector needs to be more inclusive of the Muslim way of life. By offering facilities such as inclusive travel guides, prayer mats or halal display ratings in restaurants, visitor numbers could increase. One example of this is the recently opened prayer room at Auckland International Airport. Tourism New Zealand is currently working on developing similar facilities and will be promoting New Zealand as a Muslim-friendly destination at the 2020 Dubai tourism expo.