Suffrage 125 spotlight: ChangeMakers Refugee Forum, a conversation with Naomi Tocher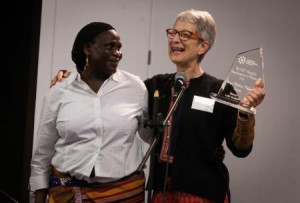 This year we celebrate New Zealand's 125th anniversary of women receiving the right to vote.
ChangeMakers Refugee Forum is a Wellington based, non-government organisation, representing communities from former refugee backgrounds. The organisation has many initiatives designed to live out their vision of New Zealanders from refugee backgrounds participating fully in New Zealand life.
A focus for ChangeMakers is empowering women in their settlement journeys. In 2016, their programme, Turning the Curve, won the Implementation and Practice award from the Chartered Institute of Logistics and Transport. Coordinated by Ms Naomi Tocher, the programme teaches women how to drive.
To celebrate the work Naomi and ChangeMakers do, we invited Naomi to answer the following questions about Suffrage 125.
What does celebrating Suffrage 125 mean to you?
It serves as a reminder that, although women have come so far, women from former refugee backgrounds in New Zealand are still finding it hard to access equal opportunities. Although there is cause for celebration at how far Aotearoa has come, it is important to realise that there is still work to be done.
What inspired ChangeMakers to initiate Turning the Curve?
Women from former refugee backgrounds across Wellington came together and told us that this was a top factor in enabling them to begin their settlement journey in New Zealand, and feel just like every other 'Kiwi woman'.
How do you think the lessons benefited the women involved?
The driving lessons provided a huge boost to their confidence. It gave them independence from relying on their families for their transportation needs. Having the ability to drive allows access to new career opportunities, and allows them to participate in events of interest. It gives a sense of belonging or normality by performing everyday tasks, such as transporting their children to school or going to the beach. It also allows them to support family members, parents, and others in their communities.
What is your message to women from an ethnic background?
Be strong in who you are. Treasure the resilience you have demonstrated in resettling in New Zealand and the life experience and cultural difference you bring here. Know that you have equal rights in New Zealand society to be who you want to be.
What is one thing you would change in our society that would benefit women in our ethnic communities?
I would change the attitudes and understandings of New Zealanders towards people from former refugee backgrounds, especially employers, and the public system.