Spotlight on: Monina Hernandez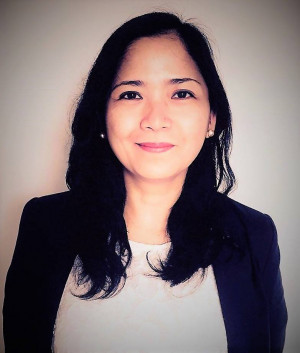 We recently spoke with Monina Hernandez, a leader in the health sector, to find out more about who she is, her career, and her goals for the future. The Office of Ethnic Communities Nominations Service supported Monina's successful application to the Board of the New Zealand Nursing Council.
Can you tell us a bit about yourself?
I am a doctoral student, and mother of two. I'm Filipino by birth and Kiwi by citizenship. I am a migrant nurse-leader, a researcher, author, educator and nurse-midwife. I am a lecturer at Massey University, a board member of the New Zealand Nursing Council and a former director of the New Zealand Nurses Organisation.
I do a lot of volunteer work that deals with improving public health service delivery, supporting victims of bullying and harassment and providing support to migrants.
A proud achievement of mine is founding the Filipino Nurses Association of New Zealand Incorporated (FNANZ) in 2015. FNANZ helps shape policies that facilitate migrant nurse settlement in New Zealand and provides support and advice to Filipino nurses as they emigrate and transition to life in New Zealand.
I am passionate about dignity for all, and social justice and democracy through collective action. I am committed to patient safety, quality care, evidence-based practice, representation of public interest in governance and the improvement of the health status of all people in Aotearoa.
What's your career background?
In the Philippines, I practised as a community nurse, maternal and child nurse practitioner and university lecturer.
I have worked in under-resourced communities to help deliver babies, prevent and manage various types of infections and diseases, and train village health workers.
I worked as Education Programme Director to help grow a private education company, have prepared nurses for their nurse licensure examination, and am the author of a nursing book.
Throughout my education, I studied Maternal and Child Care Nursing, biostatistics, epidemiology, the socio-cultural determinants of health and public health education.
When I came to New Zealand in 2010, I worked as a staff nurse at a high-risk postpartum ward. I then trained and worked as a clinical nurse specialist for infection prevention and control, before taking on a lecturer role at Massey University in 2016.
Currently, I am working towards my PhD, with a focus on Nursing Workforce Planning. I am also writing research articles and have governance positions in various health, social and nursing organisations, both locally and internationally.
What's the biggest obstacle you've faced and how did you conquer it?
Racism and bullying are major obstacles for me. As a single mother and Filipino migrant, I am vulnerable to these issues. There are occasions when it gets me, and I feel so alone. Bullying is such a vicious cycle - one gets bullied, raises the alarm, and can get bullied further for raising the alarm. It wears victims down. It's just not right.
I try to remind myself to be strong, to not let the negative emotions get me, for my children and for the people that I am helping. I do a lot of self-talk, reflecting on what is happening. In trying times, my faith helps me a lot.
I think my inner resilience derives from forgiveness and compassion. I also get support from loved ones and very close friends. More importantly, I try to stop bullying early on.
What's something you're working on about yourself?
I want to work on not overcommitting myself too much. I have diverse interests and love to help people. That's the reason why I am involved in various volunteer roles, but I know I need to take care of my health too. That means that I need to build my resilience and prioritise my commitments.
Who's the person that has influenced you most?
The plight of the Filipino masses has been a big influence on me. I was raised during the 1970s martial law period in the Philippines, which was a time of poverty and political turmoil. I was lucky to have a mother who explained social inequities to me as a young child.
She used everyday scenes to explain social injustice. She would talk to me about the exhausted labourers in ragged clothes who would fall asleep on packed public buses, of how poorly they were paid for their arduous work, and that their families were trapped in a cycle of poverty. I grew up with her stories of how the poor farmers in the Philippines tilled land they did not own, and how the builders and carpenters lived in shanties in slum areas because they did not get decent wages.
I was also educated by nuns who helped orphans, poor families and refugees from the war. We made school trips to orphanages as a child to learn about the plight of abandoned children and was bombarded by stories of misery, compassion and hope.
In high school I was influenced by the work of physical scientists. I fell in love with mathematics and scientific research and its application in health, which initially led to a desire to become a doctor. As my studies continued, my interest widened to include how the political economy affects health and human rights.
I cannot really say that there was one person who influenced me. What I can say though, is that I am not blind and deaf to the plight of the poor, the underserved and the exploited. They continue to influence my values and shape who I am. I am committed to helping them wherever I may be, and that commitment cannot be taken away from me.
Congratulations on your appointment to the Board of the Nursing Council. What sparked your interest in governance?
Thank you. I would describe governance by saying that "Governance excellence is about leadership, continuous improvement and adding value."
I am very much aware that health is political, and my commitment to social justice is strong. I was involved in governance in the Philippines, so it's important to me that I learn the context of governance in New Zealand.
I have always believed that governance should be guided by a balance between economic and social goals, individual and group goals, and by the prevailing values of the organisation.
In this role I will bring my commitment to patient safety, quality care, evidence-based practice, representation of public interest and the improvement of the health status of all people.
Find out more about registering with our Nominations Service(external link).