Cherry Blossom Festival and Art Salon held in Auckland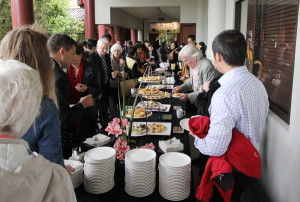 Auckland's Fo Guang Shan Buddhist Temple held its annual two day Cherry Blossom festival on 24 and 25 November 2018.
The festival welcomed spring and celebrated the beauty of cherry blossoms with musical performances, a blessing ceremony for babies and children, tea meditation, and vegetarian food stalls to coincide with International Vegetarian Day.
The temple also hosted the second annual Cherry Blossom Art Salon in the Fo Guang Shan Art Gallery, inviting people to come together and connect through a shared appreciation of art. The exhibit was open from 10 November to 9 December 2018 and promoted harmonious relations and well-being amongst New Zealand's diverse communities. The salon aligns with Fo Guang Shan's principle of propagating Buddhist teachings through cultural activities.
The 300 works, created by more than 90 artists, were curated by one of the temple's nuns, Venerable Abbess Manshin, and included paintings, glass artworks, jewellery and sculpture. The salon provides aspiring artists to showcase their talents and sell their artworks in New Zealand's largest Buddhist temple.
The Office of Ethnic Communities supports events such as the Cherry Blossom Festival and Art Salon because two of our focus areas are growing knowledge and understanding of ethnic diversity, and valuing diverse cultures within communities, wider society and the nation.
Photographs of some of the artworks featured in the 2018 Cherry Blossom Art Salon(external link).