Ministry for Ethnic Communities hosts ethnic youth Zoom hui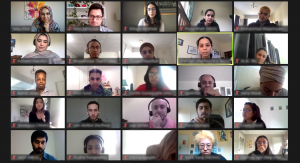 The Ministry for Ethnic Communities hosted an ethnic youth Zoom hui on 26 August to connect with young people from ethnic communities across Aotearoa. We were joined by 35 brilliant rangatahi from Invercargill to Auckland and we had an opportunity to hear about the great work they are doing, the roadblocks that they may be facing, and the issues they would like us and other government agencies to know about.
We were also joined by the Ministry of Health New Zealand to talk about COVID vaccination and by Ara Taiohi, Youthline and the Ministry of Youth Development to share some ideas on looking after our wellbeing.
We loved the energy in the session and the passion with which the youth engaged in the different topics and shared their ideas. We hope those who took part in the hui enjoyed it too and we look forward to connecting again soon!