The Ministry for Ethnic Communities, in collaboration with Ethnic Research Aotearoa (ERA), marked a significant milestone with the launch of the Ethnic Research Hui Aotearoa 2023.
The event, held at the National Library, brought together a diverse and enthusiastic assembly of over 100 participants, comprising researchers, evaluators, policy analysts, practitioners, leaders, and service providers from various sectors.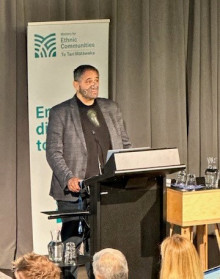 Under the resonant theme, "How to better embrace ethnic voices and evidence in public policy?" the hui proved to be a captivating and enlightening experience. The event kicked off on a high note, with the engaging Jaime Hayden taking the stage as the Emcee, setting the tone for a day of meaningful conversations.
The proceedings commenced with a soul-stirring Mihi Whakatau by Kura Moeahu, Queen Service Office, emphasising the importance of sharing cultural narratives and celebrating the uniqueness of cultures.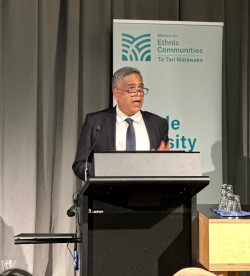 In his opening speech, Mervin Singham, Chief Executive of the Ministry for Ethnic Communities, highlighted the rapidly evolving diversity in Aotearoa. He emphasised the imperative of capturing ethnic voices, utilising research, and building an evidence base to tell the comprehensive story of New Zealand's diverse communities.
"It is our sincere hope that this hui is the start of our collaboration for driving impactful insights and effective policies and services for ethnic communities. By working together and sharing knowledge, we can create real change for ethnic communities – empowering them to realise their full potential and be recognised as critical contributors in nation-building," said Mervin Singham.
EeMun Chen, ERA's Director, underscored the pivotal role of research designed to acknowledge different ethnicities and individuals identifying with more than one ethnicity, emphasising its role in fostering a sense of belonging.
The hui's centrepiece was a thought-provoking panel discussion titled 'What has gone before - where we currently stand – whanaungatanga and connections.'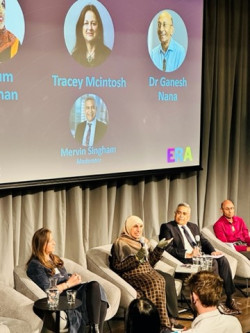 Distinguished panelists, Professor Tracey McIntosh, Chief Science Advisor at the Ministry of Social Development NZ, Professor of Indigenous Studies in Te Wānanga o Waipapa (School of Māori Studies and Pacific Studies) at the University of Auckland - Waipapa Taumata Rau and Member of the New Zealand Order of Merit, Dr Ganesh Nana, Chair of Productivity Commission Te Kōmihana Whai Hua o Aotearoa, and Anjum Rahman, Project Co-Lead at Inclusive Aotearoa Collective Tāhono and Member of the New Zealand Order of Merit, shared their rich insights and moving moments from their respective journeys, leaving a lasting impact on all in attendance.
The panel discussion was followed by expert presentations on a range of topics, including effective research and evaluation, stronger use of ethnic research and evaluation evidence by service delivery and policy decision-makers, and vibrant ethnic research and evaluation networks.
Our valued presenters on these topics were Dr Roshini Peiris-John, Associate Professor at the University of Auckland, Dr Rachel Simon-Kumar, Associate Professor at the University of Auckland, Dr Jagamaya Shrestha-Ranjit, Senior Lecturer – Nursing at Auckland University of Technology, and Vasantha Krishnan, General Manager - Evidence Centre at Oranga Tamariki.
The hui's comprehensive agenda also included a session about the existing research and evaluation funds and models that meet the needs of ethnic communities.
Awhina Gray, Investment Manager at the Ministry of Business, Innovation and Employment, Luke Garland, Senior Research Investment Manager at the Health Research Council of New Zealand, and Lucy Beeler, Community Funding and Reporting Lead at the Ministry for Ethnic Communities, shared the available funding opportunities through each organisation respectively.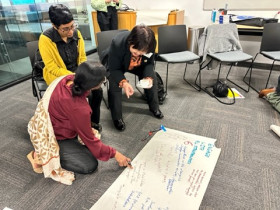 The hui's second half saw participants engaging in interactive discussions within five essential streams, covering topics such as:
Nothing about us without us,
Ethnic data sovereignty,
Networks and active collaboration,
Results dissemination and evidence use by practitioners and policymakers, and
Existing research and evaluation funds and models.
The Ministry's commitment to ethnic research and evaluation extends far beyond this event. It signifies a long-term dedication to providing evidence-based advice and positively impacting the lives of the communities it serves.
The inaugural hui has paved the way for impactful insights, effective policies, and services for ethnic communities, bridging the gap between evidence and policy to create meaningful change.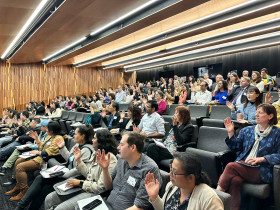 As the event concluded, participants expressed their gratitude for the opportunity to come together and contribute ideas to achieve common. One of the participants said, "Thank you for the hui. It was a well-organised and productive event. The discussions and activities were amazing, and I am grateful for the opportunity."
Check out more photos and videos from the Ethnic Research Hui here.
Click here for the agenda of the inaugural Ethnic Research Hui Aotearoa 2023.
For more information, please email us at info@ethniccommunities.govt.nz