250 years of encounters – a snapshot of first encounters between the people of Aotearoa and our ethnic communities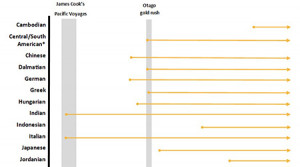 James Cook arrived in New Zealand 250 years ago while on his first Pacific voyage. The year 1769 not only marks the first encounters between Māori and Europeans, but also the beginning of continuous and increasing encounters between the people of Aotearoa and people from across the globe.
The stories of our early ethnic visitors and settlers are an integral part of New Zealand's national history, and our ethnic communities' heritage in New Zealand. We can draw a link between the stories and the Office of Ethnic Communities' focus on valuing diverse cultures and ethnicities within communities, wider societies and the nation.
For many people, learning about and maintaining their heritage is an important part of their identity and sense of personal wellbeing.
Heritage is often associated with a person's country of origin, or their family's country of origin. We may not readily think of a community's history in New Zealand as also being a part of their heritage. However, for many communities in New Zealand, such as the Chinese and Indian communities, New Zealand has been called home for several generations, and their heritage lies as much here as it does overseas.
Today, New Zealanders identify with more than 200 ethnicities. This diversity shapes and enriches New Zealand's society in significant ways. All our ethnic communities have unique stories of their beginnings in New Zealand.
There are numerous reasons why people migrate to New Zealand. Some of these early encounters were temporary, others were permanent.
Temporary encounters were often between sailors and Māori. James Cook's Pacific voyages brought many diverse people to New Zealand shores. For example, Swedish botanist Daniel Solander sailed on Cook's first Pacific voyage from 1768 to 1771, while John Webber, an English artist of Swiss descent, accompanied the third Pacific voyage from 1776 to 1780.
The first Japanese visitors were a travelling circus troupe of wrestlers and acrobats, including women, who toured New Zealand in 1874. The first permanent Japanese settler, Asajiro Noda, was recorded in 1890.
Some early settlers to New Zealand were attracted by the Otago gold rush and its promise of riches. By 1866, there were, for example, 12 Chinese men working in the Otago gold fields, as well as small numbers of Central and South American,* Greek, and other settlers. Many left after the gold rush peaked in the mid-1860s, some stayed on, and new settlers, especially Chinese, came in the thousands to rework the gold fields.
While many gold rush settlers envisioned returning to their homeland after striking it rich, others decided to permanently settle in New Zealand to make better lives for themselves and their families.
The first German settlers, predominantly rural labourers from Northern Germany, arrived in 1843, and initially settled in the Nelson region. Labourers were dependent on the landowning aristocracy in Germany, and many sought freedom and landownership in New Zealand.
Since the early 19th century, some groups also came in search of a safer future, due to war or political turmoil in their country of origin. For example, a small number of Hungarians made their way to New Zealand around 1849, following the events of the Hungarian Revolution. From the late 1970s, New Zealand granted residence to Laotians and Cambodians, after a change of power in their respective countries.
The chart below provides a snapshot of first encounters between members of our ethnic communities and the people of Aotearoa.
Te Ara The Encyclopedia of New Zealand(external link) provides interesting insights into the history of peoples in Aotearoa.
The Ministry for Culture & Heritage is planning a national commemoration to mark the 250th anniversary since the first meetings between Māori and Europeans during James Cook, Tupaia and the Endeavour crew's 1769 voyage. Check out For information about Tuia Encounters(external link) for more information.
*Includes: Argentinian, Brazilian, Mexican, and Chilean
**Finnish and Swedish