Lady Khadija Charitable Trust is a volunteer-run registered charity based in Ōtautahi Christchurch. It aims to make a difference to vulnerable community members in Aotearoa New Zealand by empowering them through various projects.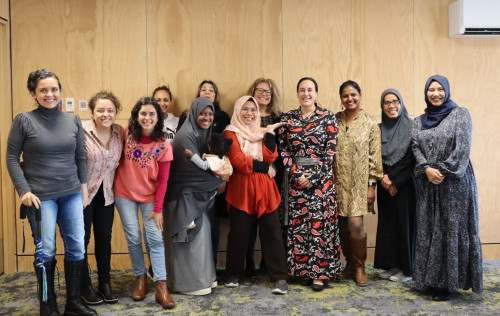 The Trust received an ECDF grant in August 2022 towards a seven-day leadership programme. The programme was tailored to women from Christchurch's ethnic communities. The programme ran from February to June 2023. During the course, a diverse group of women would come together once or twice a month, sometimes with their children.
Lady Khadija Charitable Trust co-founder Dr. Hafsa Ahmed (MNZM) said the women played active roles in their communities but were sometimes taking on too much that they didn't have time for self-reflection. The first session on the 'journey of self' involved vulnerable conversations amongst the women - she said.
"The diversity of the women in the room added to that depth because everyone had a different story… There were five different continents in one room. They learnt about different cultures, and they were different ages as well."
The course helped the women achieve a greater sense of self and build confidence in their leadership skills. They heard from various women leaders, including Elle Archer, the Director and Founder of SMART Development. The project aligned with several of the Ministry's priorities, including to 'promote the value of diversity and improve the inclusion of ethnic communities in wider society'.
The course had many benefits, particularly in building self-awareness and confidence, which will help the women succeed in their communities and employment. The women described the sessions as "feeling like home", which gave them a greater sense of belonging. They formed bonds with one another and are hoping to work on a joint project together.
The first group of women to do the programme graduated on 30 June 2023. Hafsa hopes to run more leadership courses soon. She says the course, which wouldn't have been possible without ECDF funding, has made a real difference to the women's lives.
"I feel they can be better leaders now because they are strongly grounded in their identity, so they are not going to compromise on anything."
Find out more about the Trust's work on its Facebook page.