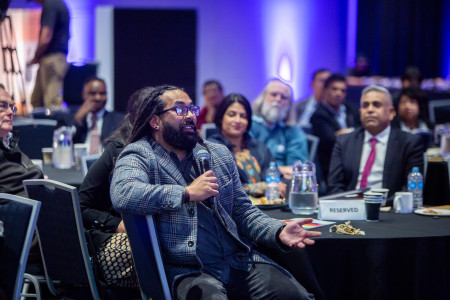 Our Cultural Kōrero evening was a celebration and exploration of ethnic communities' contributions to the cultural and arts sector. Representatives from the creative arts sector and ethnic communities gathered at Due Drop Events Centre in Manukau, Auckland on 12 May for this unique event.
Speeches, performances, and an exhibition kept the audience entertained, while there were many opportunities for people to kōrero with another and consider the topics discussed throughout the evening.
The event began with a special Taonga Pūoro performance by musician Rob Thorne, who later closed the event, playing alongside Māori and Indian artists.
The Ministry hosted this event to connect people with similar stories and experiences. It was an opportunity to explore the challenges people from ethnic communities face in the creative arts sector, and to examine what is needed to break down some of the barriers.
The Cultural Kōrero event was also the platform for the official launch of Professor Edwina Pio ONZM's new book Aotearoa & Bharat Māori-Indian, which the Ministry released in early 2023.
Professor Pio is Aotearoa New Zealand's first Professor of Diversity. Her new book follows on from earlier research she did. It explores early connections between Māori and Indians, the themes that bonded them, and profiles several people who have both Māori and Indian roots. The book also describes some of the ways in which the relationship between the two communities has been strengthened over the years.
Professor Pio's speech captivated the audience. She read an excerpt from her book and spoke about the importance of storytelling.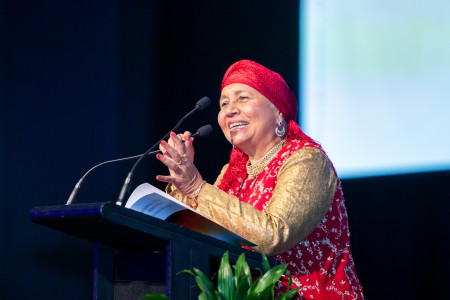 "Stories can provide a glimpse of something more eternal. To decorate, embellish, nourish and challenge our daily life. From our vulnerable positions, we accept and acknowledge diversity and possibility."
Some of the people who featured in her book attended the event, including Matt Renata. Matt Renata, his family, and Professor Pio were later interviewed for a segment on RNZ's Voices.
Listen to the RNZ interview with Professor Pio, Matt Renata and his family
Read Aotearoa & Bharat Māori-Indian
The panel discussion for the night was Diversity and Inclusion in the Creative Industry: From Representation to Creative Control. Panellists were musician Swap Gomez, creative producer Sums Selvarajans and Youth Arts New Zealand Project Lead Danielle Hao-Aickin. Emcees Kadambari Raghukumar and Albert Belz guided the conversation.
The panellists discussed the barriers they and others from ethnic communities have faced working in the arts sector, the change they have seen in their careers and their hopes for the future.
The Ministry was grateful that Minister for Diversity, Inclusion and Ethnic Communities, Priyanca Radhakrishnan was able to attend in person, as well as Manatū Taonga – Ministry for Culture and Heritage, Chief Executive Laulu Mac Leauanae. Ministry for Ethnic Communities and the Ministry for Culture and Heritage are collaborating to ensure that the creative arts and performing arts sector includes our ethnic communities.
Ministry for Ethnic Communities Chief Executive Mervin Singham spoke at the event, telling a story about a young woman who works for a large global consultancy firm. She shared with Mervin how she proudly wears a sari to work every day, saying it makes a point of conversation and she gets to talk about her Indian identity.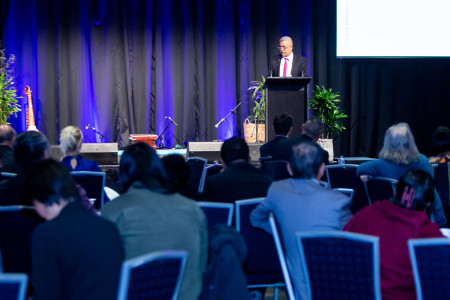 "Our identity matters. Wherever we come from we have our cultural identity in the DNA of who we are. We can't just leave it at home when we venture out into the world. And respect and appreciation of our culture leaves a deep and profound impact on our sense of belonging…"
The event ended with a special crossover improvisation by Manjit Singh Trio and Māori musicians Rob Thorne and Aroha Jensen. The artists played together for the first time on stage at the Cultural Kōrero event, blending traditional Indian music with traditional Māori instruments.