Our Ethnic Advantage Conference in Tāmaki Makaurau Auckland was the third in the series, following conferences in Dunedin and Christchurch in 2022.
The Auckland edition welcomed more than 200 people to Due Drop Events Centre in Manukau on 13 May 2023. They represented various community groups, service providers and government agencies. Minister for Diversity, Inclusion and Ethnic Communities, Priyanca Radhakrishnan, also attended.
Our conferences align to all four of our priorities, and specifically: To connect and uplift ethnic community groups. Our Ethnic Advantage conferences were delayed due to COVID-19.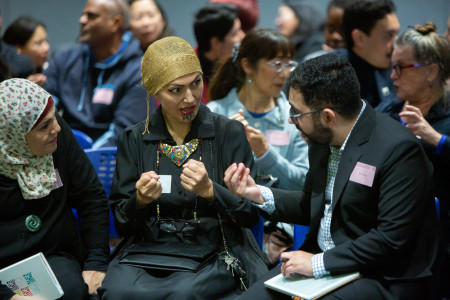 At the Auckland edition, there were speeches, performances, plenary and breakout sessions. Topics ranged from the cultural convergence between ethnic communities and mana whenua to how to increase funding avenues for ethnic communities.
Speakers included experts from the public and private sector, and there were opportunities for participants to engage with them and ask questions. The Auckland conference also featured a stall area, where attendees could find out more about the role and mahi (work) of various government agencies and funders.
The conference was an opportunity for people to connect, inform and grow. It was a platform for attendees to strengthen existing connections and form new ones.
People travelled from across the upper North Island to attend and represented a range of the more than 200 ethnic communities in Aotearoa New Zealand.
See all photos from the Auckland conference on our Facebook page
Strength in diversity
The theme of the conferences, Ethnic Advantage, highlights that there are many advantages to a superdiverse nation, and that ethnic communities have a variety of skills, experiences, and values to contribute.
In her opening remarks, Minister Priyanca Radhakrishnan spoke about the strength of our diversity: "It is well documented that a diverse population has many benefits, and there's absolutely no doubt that our nation is stronger because of our diversity and not in spite of it."
The Ministry' Chief Executive Mervin Singham said the conference was a "call to action".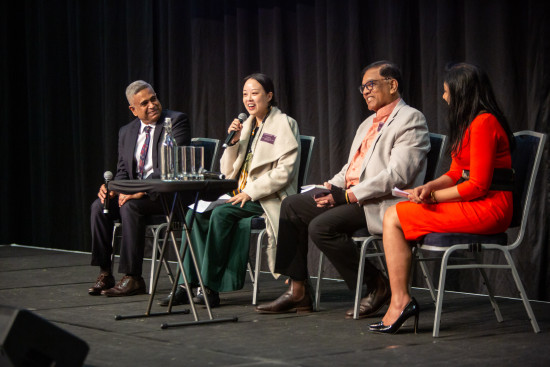 "This conference is a call to action….it is a call to unite people from diverse faiths, ethnicities and cultures. No matter where we come from, we matter. We have something valuable to contribute. It starts with building relationships and sharing our knowledge and wisdom with each other. That's how we build communities that can really take care of each other."
Attendees told us they were thankful for the opportunity to make connections, to be involved in important discussions, that they enjoyed sharing stories, and left with new knowledge and inspiration.
Conversations
There were three main plenary sessions and six breakout sessions, each exploring a different topic. There were opportunities for attendees to ask questions and engage with one another. Some sessions invited the audience to talk to someone they've never met before, and to find things in common.
Check out the Ethnic Advantage Conference – Auckland edition programme.
One of the breakout sessions was on Public Sector Boards and Committees. This was moderated by our Talent and Governance lead who manages our Nominations Service, a programme which aims to help increase ethnic representation on public sector boards.
Find out more about our Nominations Service programme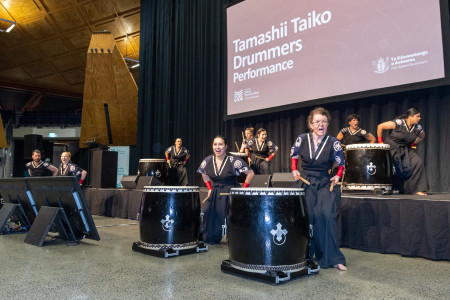 The plenary sessions were a chance for people to hear from experts about a range of topics, including diversity, equity and inclusion; how ethnic service providers respond to the needs of ethnic communities; and the economic contributions of ethnic communities.