You may need funding support to run your language celebration, especially for larger events. There are a range of resources to support your community to apply for funding, or to fundraise itself.
1 Set a budget
Work out how much money you need to run your language celebration. Consider running expenses such as:
Venue costs, including cleaning and equipment
Printing, such as posters and flyers
Transport
Council permits
Catering.
It pays to put the word out. Talk to community members to see what resources such as venues, sound equipment and photocopying facilities they are able to contribute.
Are there business owners in your community who can provide support? For example, plates for a food festival, lighting or sound, or prizes.
Do you know people at your local school or place of worship who can provide a venue for your events?
Note: If you find that you do not require substantial funding, you may be able to cover costs through fundraising. The CommunityNet Aotearoa website can help you with fundraising ideas.
2 Identify potential funders
There are a wide range of grants that support community initiatives including government and philanthropic grants. Funding is generally provided on an annual basis and must be applied for annually.
Keep in mind that often grants do not fully fund projects. You may need to apply for funding from multiple grants, or carry out fundraising.
These organisations can help you find the right fund for your project:
Generosity New Zealand: Generosity New Zealand hosts the GiveUs database, for community group funding. The database is subscription based, and can be viewed at some Citizens Advice Bureaus and public libraries.
Community Matters (The Department of Internal Affairs): Community Matters has a range of resources and grant programmes that may be suitable for your celebration.
Do your research and contact the funder, if possible, before starting your funding application to ensure what you are looking for is likely to meet the funder's criteria.
3 Provide everything needed for an application
If you are applying for funding, you'll usually need:
a bank account with two signatories
a regularly maintained and current cashbook or electronic equivalent
a spreadsheet, journal or other system that tracks different funding sources
a person responsible for keeping the financial records of the organisation
evidence of regular financial reporting to every full meeting of your governing body.
4 Write your application
Remember that funding must be applied for before you run your celebration. The earlier the better.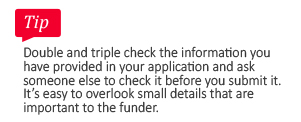 If you can, try to submit your application a few weeks before the due date. This gives you the opportunity to discuss any application issues with the funder.
Generally, funding is allocated for a particular purpose. Understanding what this purpose is will help you target your application appropriately.
Make sure you complete all the relevant sections of the application and provide everything the funder asks for. Here are some tips from CommunityNet Aotearoa:
Legal status – are you an incorporated society or charitable trust? Do you have an umbrella organisation willing to receive money on your behalf? Are you registered for GST?
Summary of what your projects aim to achieve. Enclose any needs analysis, evidence or statistics.
Outline of the project itself.
Responsibility – who will manage this event and what support do they need.
Evaluation – explain how you intend to measure how successful the celebration will be.
Budget – list all items of anticipated income and expenditure, including administration costs. Note any other sources of funding that you have approached for this event and when you expect a response. State how much the organisation is providing.
Where available, attach professional quotes.
Ask for a specific amount of money that is realistic for the event budget and of the size of the grant usually made by the funding body. In many cases, your request will be less than the total expenses identified in the budget.
List address and phone numbers of two people who can provide the funder with any further information or clarification.
List two or more referees from outside your own organisation who understand the event and support it.
5 Review your application
Whether you received funding or not, it's always good practice to look at what went well and what could have gone better. You can also ask the funder what you could do differently next time.
Remember, relying on grants alone for your continued celebrations may put your events at risk for the future, so keep your funding options open.
More information
More information about grant applications and other fundraising ideas can be found at: