Multicultural Festival Celebrates Chinese New Year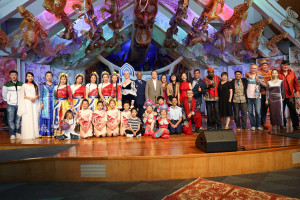 The Multicultural Festival in celebration of the Chinese New Year Gala Performance was held at Te Marae, Te Papa in Wellington on 26 January 2019.
This multicultural event, co-hosted by the Multicultural Council of Wellington and the China Cultural Centre in New Zealand, featured Chinese, Indian, African, Russian, Polynesian, Latin American and New Zealand song and dance acts. Showcasing the cultural diversity of the local talent in Wellington, the evening was an opportunity to enjoy cross-cultural performances with beautiful costumes from communities in the Wellington region.
The President of the Multicultural Council of Wellington, Rachel Qi, commented:
"The purpose of this event was to bring the wider communities of Wellington region together, and to have an inclusive society, understanding, respecting and acknowledging all traditions and cultures through celebrations that develop a vibrant and diverse nation. We received lots of positive feedback from performers and audiences. We are grateful for all the support, and happy to hear that everyone including international visitors who enjoyed our show thoroughly."
The Multicultural Council of Wellington is a non-profit organisation established 23 years ago under the umbrella of the New Zealand Federation of Ethnic Councils. The Council focuses on promoting and developing cultural, social and sporting activities amongst ethnic groups within the wider Wellington community.
The Office of Ethnic Communities values diverse cultures and ethnicities within communities and supports events which celebrate them. We wish everyone the best for the Year of the Pig.