More of Us, poems by 46 writers who came to New Zealand as migrants and refugees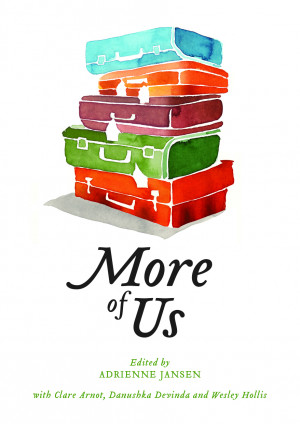 More of Us, released 21 March 2019, is a compilation of poetry written by 46 former refugees and migrants from 29 countries, all now living in New Zealand.
The book was published by Landing Press, a small Wellington-based company that aims to publish good poetry for people to enjoy.
The book release was held at the National Library in Wellington by Michael Wood, Under-Secretary to the Minister for Ethnic Communities.
Adrienne Jansen, lead editor of More of Us, reflected on the diversity of the poets, who now live across Aotearoa, "from teenage Syrian refugees Maha and Mohamed Al Mansour, who arrived in October 2017, to Huberta Hellendoorn, who emigrated from the Netherlands in 1960, each poet has a unique story of coming to New Zealand.
"More of Us brings to life the authors' experiences. Poems about telephone calls, dogs, food, airports, words, football, memory, all give a glimpse of what it's like to come and live here."
Landing Press requested poetic submissions from people across New Zealand who wanted to tell their story. 35 of the poems published in More of Us were selected from nearly 100 submissions.
The other 20 poems were created for this book. Poetry workshops were held by Landing Press to equip people who spoke English as a second language with the tools to write poetry.
"These workshops were very exciting," said Adrienne.
"Some adults had limited English but a very good understanding of poetry in their own language and culture. That's a big advantage. We can easily forget how much knowledge people bring with them."
More than half of the poets were in Wellington for the book release, which was attended by 200 people.
For more information, contact:
Adrienne Jansen adriennejansen1@gmail.com
0220900131 https://landingpress.wordpress.com(external link)