Mitchell Pham receives Kea World Class New Zealand Award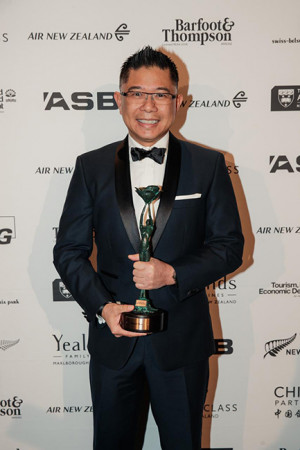 The Office of Ethnic Communities would like to congratulate Mitchell Pham on being the first ethnic migrant/refugee to receive the Kea World Class New Zealand Award for his contribution to the New Zealand technology sector and NZ-Asia relations.
A former refugee from Vietnam, Mr. Pham arrived in New Zealand at the age of 13. He is now a Director of the Augen Software Group in New Zealand and Vietnam, cofounder of the Kiwi Connection Tech Hub, and a cofounding advisor to Smart Links Swiss and Lina.review. In addition, he serves as Chairman of the NZ Technology Industry Association (NZTech) and the New Zealand Financial Innovation & Technology Association (FinTechNZ), and is Trustee of the Auckland Refugee Family Trust (ARFT).
Formerly, Mr. Pham was an Advisor at the Ministry of Business, Innovation and Employment (MBIE), Trustee of Refugee Services Aotearoa (now merged with New Zealand Red Cross) and of the Asia New Zealand Foundation (ANZF), and Board Member of Health Informatics New Zealand (HiNZ). He is currently a New Zealand Trade & Enterprise (NZTE) Beachheads Advisor in technology business for South East Asia. He is also a member of the Ethnic People in Commerce (EPICNZ) network, the NZ Asian Leaders (NZAL) forum, and the NZ Superdiversity Council.
Internationally, Mr. Pham is a member of the Strategic Alliance Vietnamese Ventures International (SAVVi) network and an executive of the global Vietnamese diaspora business network (BAOOV). He has been recognised as an Asia 21 Fellow by the Asia Society (headquartered in New York) and a Young Global Leader by the World Economic Forum (headquartered in Geneva).
"New Zealand was discovered by migrants, then founded by migrants, then built by generations of migrants ever since. Today, it is an open, safe and inclusive environment, with a well-established ecosystem for economic, social and political participation", commented Mr. Pham.
"Presence + Engagement = Relevance. For ourselves, each migrant or ethnic Kiwi has an opportunity to discover our relevance to New Zealand. When we're relevant, we are much more likely to succeed, anywhere. This is why we all should engage in the challenges and opportunities that are shaping this country.
"Being migrant or ethnic, we are already well equipped with a wide range of unique skills, background experience, cultural richness, diverse perspectives, different ways of thinking and problem-solving, international connections, and most importantly the drive to succeed in building a life for ourselves, our families and future generations, right here in Aotearoa. All of these things are important and valuable to New Zealand.
"A good way to discover our relevance and apply ourselves is to work together with locally-born mainstream Kiwi's. It doesn't matter where we came from, as long as we all head in the same direction" concluded Mr. Pham.
We wish Mr. Pham every success as he continues to contribute to New Zealand's economy and society while inspiring other Kiwi's from ethnic backgrounds to take up the opportunities to lead in their communities and professional fields.