Kings Plant Barn - helping the Chinese community grow their gardens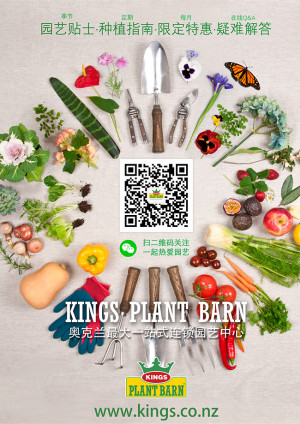 Kings Plant Barn(external link), Auckland's largest garden centre chain, is helping the Chinese community grow their gardens by working to combat language barriers and increase New Zealand plant knowledge in the Chinese community.
Recognising the changing dynamic of the Auckland demographic, Kings Plant Barn has launched a variety of new services to help the Chinese population in Auckland.
Kings Plant Barn found that for many new migrants, New Zealand plant and gardening terminologies are difficult to understand. In response, they launched a Mandarin version of their Plant Doctor Service via WeChat for anyone with inquiries related to plants, gardening or Kings Plant Barn. The WeChat account is monitored by a number of Mandarin and Cantonese speaking staff, with most messages responded to within 24 hours. The WeChat account also posts gardening tips, planting guides, monthly exclusive deals, gift voucher giveaways and more.
Kings Plant Barn also has a Chinese support team who offer gardening talks in the community. Kings Plant Barn is heavily invested in contributing to and connecting with local communities to ensure they have the gardening support they need!
To find out more visit www.kings.co.nz(external link)