Japan Festival celebrates Wellington and Sakai's sister city relationship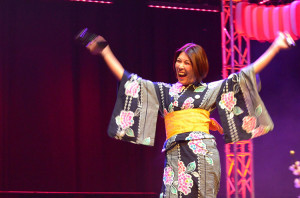 The sixth Japan Festival Wellington(external link) held 24 November 2018 had something for everyone – food, performances, art, workshops, poetry, and activities for kids.
This was the first year the biennial festival was organised by the newly formed Japan Festival Wellington Trust, which is supported by Wellington City Council and the Embassy of Japan.
The festival aims to share Japanese culture with New Zealanders, strengthen the ties between Japan and New Zealand and celebrate one of the diverse cultures which help to enrich New Zealand.
Jennifer King, Chair of the Trust, commented on how smoothly the festival ran, with special thanks to the efforts of Mayu Suzuki, vice-chair of the Trust and her capable team of committed volunteers.
Drawing on her background in work with ethnic communities, Jennifer aims to build the international side of the festival. This year, international acts included Noriko Tadano, a shamisen player who was an audience favourite on "Australia's Got Talent," and taiko (Japanese drums) group YuNiOn.
The 2020 festival will coincide with the Tokyo Olympics. The Trust hope to run a range of parallel activities such as an exhibition, a school programme and a business breakfast that this year was hosted by Asia New Zealand and the Wellington Chamber of Commerce.
Photo supplied by Hiroaki ito.