Education Consultation in Wellington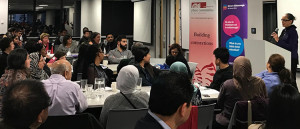 The Office of Ethnic Communities has continued supporting Ministry of Education (MoE) in hosting Education Consultation meetings for ethnic communities.
The Wellington meeting, held on 18 October at the Ministry of Education's National Office, attracted over 100 participants from a variety of ethnic backgrounds. Hon Jenny Salesa, Minister for Ethnic Communities and Associate Minster for Education, who attended the meeting, stressed the importance of ethnic people having their say in shaping the future of the New Zealand's education.
Andrea Schollmann, Deputy Secretary at MoE, also attended the meeting and role modelled her commitment to the future of education by being a scribe at one of the tables.
Some of the key themes that emerged from this meeting included the need for more teachers in schools of ethnically diverse backgrounds, and a call for language, culture and identity to be valued and recognised in schools.
One more consultation for ethnic communities will be held in Christchurch, and is scheduled for 27 October. These Education Consultations are part of a nationwide drive by Ministry of Education to engage with communities and hear their thoughts on the future of New Zealand's education system.
For further updates regarding the Education conversation visit https://conversation.education.govt.nz/(external link).