69th Anniversary of the People's Republic of China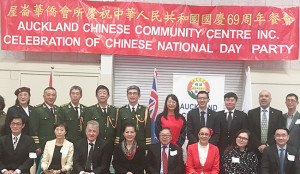 On 30 September, the Auckland Chinese Community Centre (ACCC) held an event in Mangere to celebrate the 69th anniversary of the founding of the People's Republic of China.
The event, which was attended by approximately 250 people, also celebrated the 40th anniversary of China's policy reform and included cultural performances like a lion dance, Chinese folk dance and Chinese songs performed by a Cantonese Opera Group. The flags for both China and New Zealand were raised, followed by the Chinese and New Zealand national anthems.
The Minister of Ethnic Communities, Hon Jenny Salesa, spoke at the event and highlighted the importance of celebrating how Chinese New Zealanders' social, cultural and economic contributions enrich New Zealand's diversity.
Chinese communities have called New Zealand home since the beginning of the Otago gold rush in the 1860s. Based on data from the 2013 Census, Chinese New Zealanders are now Aotearoa's third largest ethnicity. ACCC Chairman, Kai Luey, reflected on the changes in attitudes towards the Chinese since the days of the gold rush.
The Chinese Consul General, Xu Erwen, commented on how the relationship between China and New Zealand continues to grow stronger, with the One Belt, One Road initiative providing an opportunity for the two countries to continue working closely together. The five major goals of the initiative are: policy coordination, connectivity of facilities, unimpeded trade, financial integration, and people to people bonds.
Established in 1960, the ACCC provides recreational facilities and social services to the Chinese communities in Auckland, including a Chinese language school for children, dancing lessons and sports. More than two-thirds of New Zealand's Chinese population live in Auckland.