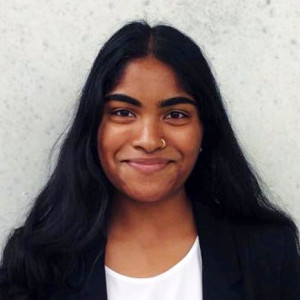 My family are Sri Lankan Tamil. My mum grew up in Colombo and her family moved to New Zealand as refugees in 1984 during the Civil War. My dad grew up in Jaffna and his family moved to the United Kingdom in 1963. Although I was born in England and grew up in Singapore, Australia and New Zealand, I have maintained my cultural roots and speak conversational Tamil at home. I also enjoy the vibrant aspects of our music, film, dress, festivals and food.
Tell us about your graduate placement and your host agency.
The Ministry of Ethnic Communities Graduate Programme has been such a rewarding, albeit challenging experience. I have learnt much about the inner workings of government and am slowly wrapping my head around all the acronyms! I have had the privilege of collaborating with departments to shape the future of policy and facilitate community engagement on key issues that affect New Zealanders. I look forward to the rest of my placement and what it may bring.
Is there a career goal you are working towards?
I have always aspired to work in the public sector, and I hope this is the beginning of a long and fulfilling career in government. In the next few years, I would like to complete postgraduate study and see myself either practising law or continuing with policy. Ultimately, I want to enact meaningful change and be a voice that inspires others.
Why do you think it's important to have a diverse Public Service?
It is incredibly important to have a diverse public service that reflects its population. New Zealand is home to many cultures that have valuable knowledge and experience to share. Graduate Programmes such as this are vital in providing that 'foot in the door' for those wanting a career in government. In turn, it creates core networks and brings to the forefront different perspectives.
What advice do you give to graduates considering a career in the Public Service?
To future graduates, I say, 'shoot your shot'! I applied for countless internships and graduate jobs before this one, and it was disheartening when I received rejection letters instead. If you have the heart to serve, the public sector is for you and I encourage you to be bold and put yourself out there! We need more people like you.