Suffrage 125 spotlight: Pohswan Narayanan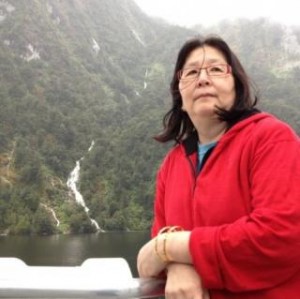 Pohswan Narayanan is a strong voice for equality and inclusion in Aotearoa, New Zealand.
With 15 years' experience in community development, working primarily with migrants and former refugees, she strives tirelessly to achieve positive change in our communities. One such change was her involvement in founding Upper Hutt Multicultural Council. The Council is a non-profit organisation established in 2006 to promote cultural diversity in the local community, and she is still an active and valued member of the organisation today.
Pohswan is not slowing down in her efforts to empower women within our communities. She has helped establish the Personal Development and Leadership programme for Syrian Women in the Hutt Valley 2017 and in Porirua in 2018, with support from the Office of Ethnic Communities. The programme enables former refugee and migrant women to lead community-based initiatives. There has been a visible increase in women taking up leadership roles in community-based endeavours since the programme began.
We asked Pohswan the following questions about Suffrage 125, and her role in our communities.
What does celebrating Suffrage 125 mean to you?
"It is an achievement that women today have a right to vote, and voice in determining who they want to be in government. Migrants are united in their support of both men and women in government."
What inspired the Multicultural Council to run self-defence classes for women as well as leadership forums for women?
"Self-defence is not about hurting the other party; it is about protecting ourselves when we are in a vulnerable situation. It teaches us to use our instinct to be strong and focus on how we can ward off uninvited encounters. It is about building self-confidence and keeping ourselves safe, as well as protecting our family.
The leadership forums provide women with confidence that they are not alone with some of the challenges they face in their respective settlement journey. However, there is still a long way to go in terms of women who are not confident in their English-speaking abilities, and families who do not necessarily support them in gaining this skill or exploring other ventures."
How do you think the classes and forums have benefitted the community?
"I have had feedback from migrants and former refugees who say that they are more comfortable in their new environments. Women are becoming increasingly more active in their communities by getting involved in various projects of interest to them. There is greater sense of safety in families and communities. There is also a reduction in mental illnesses resulting from effects of isolation, language barriers, and cultural differences. I feel society is becoming more tolerant – a place where colour or creed is 'blind'".
What is your message to women in our communities?
"Give it a go! You have nothing to lose but more to gain – your children and partner will respect your resilience and courage. An example I can think of was a group of Syrian women living in the Hutt Valley, who wanted to learn how to drive. I started by taking them go karting so they could experience the fun and exhilaration of being behind the wheel for the first time."
The Office of Ethnic Communities is proud to feature Pohswan for Suffrage 125, as it is women like her that help diversity flourish, and our communities thrive. Thank you, Pohswan, for sharing your perspectives on diversity and how diversity enriches our lives.