Looking for poems by writers with a migrant/former refugee background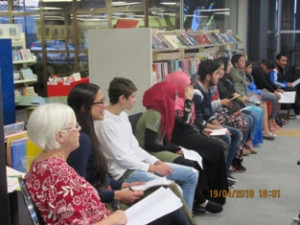 Landing Press, a small Wellington publisher, is inviting migrant and former refugee poets to send in their work for a collection to be published in October 2018.
The book of poems will be a companion publication to 'All of us', a collection of poems on the themes of refugees and migrants, by Adrienne Jansen and Carina Gallegos.
About the authors:
Adrienne Jansen is a writer and teacher, whose work focuses on the stories of migrants and former refugees. Carina Gallegos has worked with refugee-background communities in the Wellington region for the last seven years.
How to submit your work?
You can send up to three poems
Email your work to landingpresspoems@gmail.com with your name and phone number
Post to Poems, 97 Tireti Road, Porirua 5022. Include your name and postal address (make sure to keep a copy of your poem)
All applicants will receive help from an editor to hone their skills and perfect their poetry
Applications close 16 July 2018.
Landing Press is committed to publishing poetry so that it can be enjoyed by everyone. The vision of this project is to capture the voices of people in New Zealand who can give us perspective on the migrant experience.
Devinda Danushka
For Landing Press
May 2018
www.landingpress.wordpress.com(external link)