Canterbury Tamil communities celebrate Tamil New Year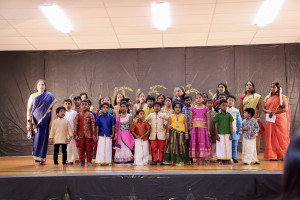 On 27 April 2019, Canterbury Tamil communities celebrated the Tamil New Year, also known as Tamil Puthandu.
The Tamil New Year celebrates the first day of the traditional Tamil calendar and is a public holiday in both Tamil Nadu and Sri Lanka.
Canterbury Tamil Society, the event organiser, considered postponing the festival due to the tragic Easter bombings in Sri Lanka, the motherland of many members in the organisation. However, the desire to come together as a community defeated fear as people gathered in a show of love, support and solidarity.
Subashini Surendran, Secretary of the Canterbury Tamil Society said, "Many of us were shocked and saddened by the bomb attacks happening in Sri Lanka. We have the greatest empathy to this because in Christchurch we had just experienced the horrific terror attacks and then what happened in Sri Lanka really upset us".
"I was pretty worried about whether our people still wanted the event or not in this difficult time. But I am impressed by the resilience of our people, and the support and audacity they expressed - We are One," said Surendran.
In 1995, Tamils living in Christchurch established the Canterbury Tamil Society in 1996. The society promotes Tamil language and cultural values to younger generations.
The Office of Ethnic Communities, NZ Police, and around 80 parents, children and performers who speak Tamil as their heritage language attended the event.
The Office of Ethnic Communities values diverse cultures and ethnicities within communities and supports events which celebrate them.