Auckland Regional Migrant Services (ARMS) Rebranding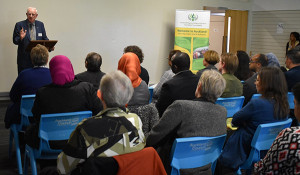 On 20 November 2018, the Auckland Regional Migrant Services (ARMS)(external link) held its annual general meeting at Auckland's Fickling Convention Centre. The event was an opportunity for ARMS to showcase some of their 2018 highlights, share their new name, and their strategy going forward.
ARMS' Chief Executive Officer, Rochana Sheward, reflected that it was an exciting first year for her in the role and thanked community partners and funders whose contributions enable and support ARMS' work.
One of the achievements from the past year was the opening of the fourth Safari playgroup. Safari playgroups provide a supportive, inclusive and multicultural environment for mothers and their children from refugee and migrant backgrounds. Additionally, ARMS opened two new Wise Collective Hubs, which offer a cross cultural environment for connecting, developing new skills and knowledge, learning English and exploring social enterprise opportunities.
Rahul Govindan, the Trust's Chair, outlined ARMS' journey of renewal, which includes a move to their new office at 8 Virginia Ave, Eden Terrace, Auckland. As part of the journey, the organisation has rebranded as 'Belong Aotearoa,' a name that reflects consultation with stakeholders from ethnic communities, and tangata whenua.
As part of their new strategy, the organisation will address issues like equitable access to employment for former refugees and migrants, social isolation and discrimination. Govindan paid tribute to retiring former Chair of the board Dr Bruce Bryant.
To conclude the evening, staff members discussed what belonging to Aotearoa means to them. They explained that it means feeling welcomed and appreciated, being connected to society and having a sense of being accepted.
The event was well attended by representatives from ethnic communities, and local and central government representatives including officials from the Office of Ethnic Communities.
One of the focus areas for the Office of Ethnic Communities is increasing civic participation of people in ethnic communities, an area which was highlighted in discussions at the event and aligns with the new direction and strategy of Belong Aotearoa.