The Race Unity Speech Awards give senior students a platform to express their ideas on how we can improve race relations in Aotearoa. The awards are run by the National Spiritual Assembly of the Bahá'ís of NZ, with NZ Police the Principal Partner. The Ministry is proud to be a partner of the awards and sponsor through our Ethnic Communities Development Fund.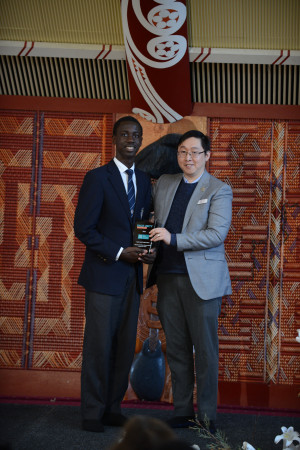 The 2023 awards were held in Tāmaki Makaurau Auckland on 18 June. Six finalists from high schools across New Zealand presented their speeches. Individual awards were given to the students, including the Tohu Whetumatarau- Ministry for Ethnic Communities Award for Vision. This was received by Leo Mwape from Palmerston North Boys' High School. The award is for a speaker who helps us envision Aotearoa's future as a multicultural society founded on Te Tiriti O Waitangi.
"Imiti Ikula Empanga. The bush of today, is the Forest of tomorrow. So let us raise our rangatahi to be the forests we want to see," Leo said in his speech.
"Many cultures, many people, one nation, one dream. To see a New Zealand built on love and diversity, so that we may achieve true unity."
Selwyn College's Head Girl Esther Sovincet was the overall champion. Esther shared her lived-experience with racism in Aotearoa, growing up as a Nigerian-New Zealander.
"The way you fertilise a tree determines how it will grow - while my tree has been fertilised to think: What if I was not black? What if the melanin flowing through my skin was actually a win? What if every day I walked out of the house, my skin was placed on society's spectrum of beauty?," Esther said in her speech.
Find out more on the Race Unity Speech Awards website and Facebook page.
Watch 2023 champion Esther Sovincet deliver her speech. Watch all speeches on the Awards' Youtube channel.