COVID-19 information for ethnic communities
We provide information for ethnic communities about COVID-19 and what it means for you, your family, and your communities.
Our main priority throughout New Zealand's response to COVID-19 is to support our ethnic communities. Ensuring you have the information and resources you need.
We send out a regular newsletter which includes COVID-19 and what it means for our ethnic communities in New Zealand.
Sign up for the newsletter(external link) or read previous editions that we have sent out.
---
The Alert Levels have changed
New Zealand is in Alert Level 1. What that means for you, your family, business, or community visit the Alert Level 1 page on the COVID-19 website(external link).
---
Topics
---
Testing
If you have cold or flu symptoms, call your doctor or Healthline. They will let you know if you should have a COVID-19 test.
CALL your local Family Doctor (GP)/Urgent Care Clinic, most Doctors can test, but you need to call them before you go.
CALL Healthline 0800 358 5453 for health advice. (Choose Option#1 for language support, stay on the line, then say the language you want e.g. 'Korean')
GET tested at a Community Testing Centre. Find a testing location near you

(external link)
---
Keeping track of where you have been
Fast and effective tracking helps us to prevent any further spread of COVID-19 in New Zealand.
To download the NZ COVID Tracer app(external link)
If you are not able to use the COVID Tracer app you can use a booklet. You can download, print and order booklets to help you keep track(external link). The booklets are also available in other languages.
You should keep track of:
Where you went
When you went there
Who you met.
You can keep a track of your movements by:
Using the app above to record your movement
Keeping a diary
Keeping a list in a safe place, or
Taking time-stamped photos of where you have been.
---
Protect yourself and others from COVID-19
There are simple steps that can slow the spread of the virus. This helps to protect yourself and others. This includes:
Staying home if you are sick
Washing your hands
Cough or sneeze into your elbow
Clean surfaces
More details are available on the COVID-19 website(external link).
---
Funding for programmes to support ethnic communities
The Ethnic Communities Development Fund has been re-prioritised to unite against COVID-19.
The new priorities are:
alternative means of staying socially connected,
employment initiatives
community resilience and recovery.
Groups from any ethnic community are eligible to apply.
More information about the new priorities for the Fund, and instructions on how to apply(external link).
Watch videos in a range of languages about the Fund and how to apply(external link).
---
Information for businesses
All businesses must display a NZ COVID Tracer QR code for each business location(external link).
It must be in either a prominent place or the near main entrances. Ensure you have alternative systems for tracing.
Information about financial assistance for business(external link)es is on the COVID-19 website. Further information is available for businesses:
---
Information for temporary migrants and non-visa holders
Travellers, student visa holders, migrant workers and employers can find information on the Immigration New Zealand website.(external link)
Immigration New Zealand also has a COVID-19 Migrant and Refugee page(external link). This page has information for Settlement service providers.
International students: There are measures in place to ensure the international education community can find support. Information is on the Education New Zealand's COVID-19 page.(external link)
COVID Testing without current visas: It is important that anyone with symptoms of COVID-19 call Healthline immediately. Healthline is free — call 0800 358 5453.
Everyone can get tested – you do not need to be a New Zealand citizen or resident. The test is still free, and you will not be charged for care if you test positive. But, you may need to pay for a test if it is for the purpose of entering another country.
No information will be shared with Immigration New Zealand even if you test positive.
Foreign nationals support application:
If you are a foreign national and you are experiencing serious hardship due to COVID-19. There is in-kind help to assist you to meet basic, urgent and immediate needs.
The Department of Internal Affairs is working with New Zealand Red Cross delivering on the $37.6 million Visitor Care Manaaki Manuhiri' programme announced by the Government on 16 June 2020. Those eligible for help have exhausted other options, and have no current access to a flight home. The Programme will run from 1 July 2020.
The help is there to assist you to either return home as soon as possible. Or find other financial support while you remain in New Zealand. If you are planning to return to your home country and are able to do so, you must organise your return as soon as possible. You will not be eligible for any further support.
For more information and to apply, visit foreignnationals.services.govt.nz(external link) or call the Red Cross on 0800 REDCROSS (0800 733 276).
---
Information in languages other than English
Do you an interpreter? Call the agency you want to talk to, ask for a telephone interpreter, say the language you want and wait. They will connect you.
Translations of the requirements at each Alert Level are available in a range of languages.
The Red Cross has published information resources in 18 languages(external link) prepared by the community as part of their response to COVID-19.
The Northern Region District Health Boards and Auckland Regional Public Health Service (ARPHS) have translated COVID-19 related health resources in 47 languages(external link).(external link)
---
Preventing family violence and sexual violence
The Government and the Police continue to take family violence and sexual violence very seriously. Violence is a crime at any time.
Information about the help and support available if you are experiencing family violence or sexual violence.(external link)
---
Racial discrimination
Racism is not OK. Not now, not ever.
If you or someone you know believe you have been discriminated against, either racially or for another reason, please inform the Human Rights Commission using the form on its website.(external link) The Commission will use this information to see if it can help you, and as a record for its human rights advocacy work. You can also report incidents to Police by calling 105 or by using the online 105 form.(external link) Call 111 in an emergency.
More information is available on the Responding to Racism page of the Human Right Commission website.(external link)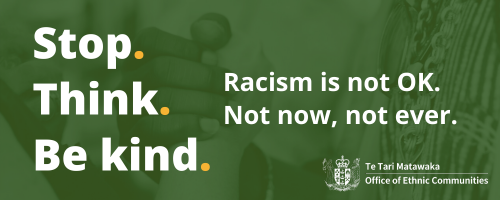 ---
Welfare and wellbeing support
There are many ways to get financial help or access to essential supplies if you need it.
The COVID-19 website has information about:
A support and services card is also available in 28 languages.(external link) It outlines key contact numbers and information if you need support or help.