Changing demography and superdiversity
New Zealand now has over 200 distinct ethnic communities. New Zealand has more ethnicities than the world has countries(external link). Based on current trends and projections, we will continue to become more ethnically diverse as our population grows. The overall ethnic make-up of our population is also set to shift significantly over coming years. New Zealand European/Pakeha New Zealanders will not continue to make up the large majority of the population. Growth of our Asian population in particular is forecast to be significant.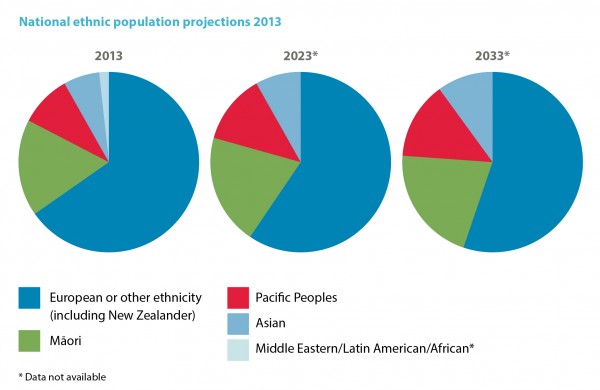 In fact, as noted in the 'Superdiversity Stocktake(external link)', (pages 53-54) New Zealand is now one of a small handful of culturally and linguistically superdiverse countries. Amongst OECD countries, New Zealand is the fifth most ethnically diverse, with 25 per cent of the total population being born overseas.
Demographic change is more significant in Auckland than elsewhere in New Zealand and is projected to continue. Over 40 per cent of Aucklanders are born overseas,(external link) and almost 50 per cent of Auckland's population is made up of people who identify as Māori, Asian or Pacific peoples (Page 56).
The benefits of superdiversity
Our increasing ethnic diversity reflects increasing global mobility and New Zealand's well-established immigration programme. Our growing diversity as a nation brings both challenges and opportunities. Challenges, including social unrest, can arise when there is misunderstanding and mistrust between people in communities or between communities and government.
The economic benefits of superdiversity can include increased innovation, better international connections and improved productivity. Within New Zealand, these benefits are the subject of active research and enquiry, and are referred to as the diversity dividend(external link).
To optimise the benefits that diversity can bring New Zealand and to minimise the potential challenges, we need to be proactive in our approach. The benefits of diversity are more likely to occur in contexts where people are open and engaged with each other and where there is underlying trust. This means that creating opportunities for meaningful connections and mutual understanding between diverse peoples is important for New Zealand. It is important for our stability and harmony, our prosperity and our shared sense of belonging and nationhood.
The importance of social cohesion
A shared sense of belonging and a willingness to join together for common purposes are important aspects of a harmonious society – a society that is socially cohesive. Social cohesion is increasingly recognised as an important aspect of the cross-government agenda. It is one of the five dimensions of the Treasury-led Higher Living Standards Framework. The other dimensions are: economic growth; sustainability for the future; increasing equity; and managing risk.
All of the dimensions work together to support achievement of higher living standards. All the dimensions, including social cohesion, are required as part of a balanced model under higher living standards(external link).
In the Higher Living Standards Framework, which draws on the work of Robert Putnam,(Putnam is a renowned political scientist and Professor of Public Policy at the John. F. Kennedy School of Government) the World Bank and others, social cohesion is described as 'the features of social organisation, such as trust, norms and networks that can improve the efficiency of society by facilitating coordinated actions.'
This is about how communities work together for shared goals and purposes and the type of social environment that is conducive to this. The Office of Ethnic Communities has a role in both supporting the right conditions for, and in some instances directly facilitating, connections through services or funding.
The importance of working to support social cohesion is as vital now as ever. While New Zealand has relatively speaking harmonious relations, we cannot take these for granted. There are many examples from overseas of what can happen when communities do not successfully connect and integrate.
The Office of Ethnic Communities has a particular role across government to support flourishing ethnic diversity and a thriving New Zealand. Through our work we want to emphasise, support and express the positives of diversity and to make sure the potential challenges are met.
Our Operating Model provides the framework with which we are working to achieve our Vision.