Our work contributes to the Department of Internal Affairs' overall strategic direction and outcomes. The Department's Statement of Intent provides the high level framework which the Office of Ethnic Communities work attaches to.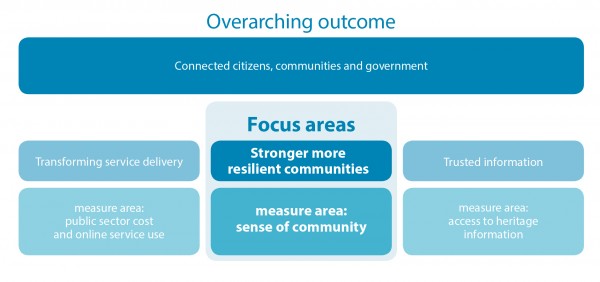 Our work is part of the Department's efforts to build 'stronger and more resilient communities' contributing to 'connected citizens, communities and government.' The work of the Office of Ethnic Communities – in support of our Operating Model – is one of the levers that the Department can apply in working towards this goal.
The high level measure of success in the stronger communities focus area is the percentage of people who feel a sense of belonging to the community. This measure applies to the whole community and not specifically to ethnic communities. It is reported via the General Social Survey conducted by Statistics New Zealand every two years. Between 2008 and 2014 responses have ranged between 60 per cent and 53 per cent of people reporting a sense of belonging.
Over the coming four years, the Department, through its range of community focused functions, including those within the Office, is seeking to contribute to greater social cohesion in New Zealand and to see reports of a sense of belonging at the upper limit of recent reporting parameters, i.e. at 60 per cent.
It is a challenge to measure attitudinal and qualitative matters – particularly across large population groups. The General Social Survey measure of 'sense of belonging' is a high level indicator of social cohesion at the national level. However, it covers only one dimension of social cohesion (belonging).
There is work underway now across government (the Department of Internal Affairs – including the Office of Ethnic Communities, Treasury and Statistics New Zealand) to build a more comprehensive baseline 'social cohesion picture' drawing from a wider variety of surveys and measures.
Within the Department, there is a set of five indicators, or proxy measures, of social cohesion which are supported by robust data sets and surveys and link to this cross government effort.
Collectively, this set of Department social cohesion indicators provides a fuller picture of social cohesion across a range of dimensions, namely:
Sense of community
Acceptance of diversity and social inclusion
Trust
Civic participation
Personal freedom and subjective wellbeing.
Indicator
Sense of community

Importance of sense of community
Experience sense of community in local neighbourhood
Social contact with family and friends
Being part of social networks and groups

Acceptance of diversity and social inclusion

Being comfortable about new neighbours with a racial/ethnic/religious minority/ migrant background
Being comfortable about new neighbours who are gay/lesbian/bisexual/transgender
Being comfortable about new neighbours who have mental illness
Expression of one's own identity – gender/sexual preference/ethnicity/nationality/religion

Trust

Trust in family members and neighbours/local schools
Trust in professions/institutions/media/business
Trust in senior bureaucrats/politicians/government

Civic participation

Participation in local and general elections
Volunteering/donating to charities

Personal freedom and subjective wellbeing

Freedom to choose what to do with one's life
Personal safety and security
Overall quality of life
The work of the Office of Ethnic Communities connects directly to the first four indicators in this set: sense of community; acceptance of diversity and social inclusion; trust; and civic participation. As this baseline picture is established we will track the progress and impact of our interventions across each of the Office's focus areas and alongside the broader Departmental effort to support stronger and more resilient communities.
As we develop and review our annual work programmes and consider where our resources should most effectively be applied, we will also be guided by the social cohesion picture that emerges across these indicators.
At the work programme level we will also have measures of success attached to specific work programme items. These will include more specific measures around uptake of services we may provide (for example, language support via Language Line telephone interpreting) and funds we administer (for example, the Ethnic Communities Development Fund).
Work programme specific measures will also be initiative or intervention specific (for example, achieving an upward shift in engagement of specific groups in civic matters or roles) and will include measures around the overall relevance and timeliness of our advice on ethnic diversity.